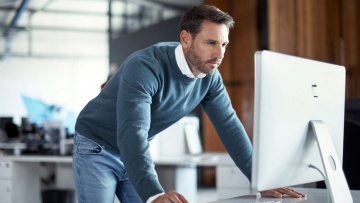 Professional Diploma in Search Marketing
DMI Specialist - Professional Diploma in Search Marketing
Become a Globally Certified Digital Marketing Specialist in Search
The Professional Diploma in Search Marketing, which is offered by the Digital Marketing Institute through its Global Partnership with ImarComms in Cyprus, will transform your career by providing you knowledge about how to create, manage and implement advanced search marketing strategies using Google Ads, PPC marketing, display marketing and remarketing techniques.
This specialized professional diploma course is delivered by some of the industry's leading search marketing experts. Detailed and structured modules teach you the elements of search campaign planning, creation and measurement, along with an accredited certification to validate your new expertise.
Why should I earn this digital marketing certification?
Search marketing is one of the most important digital disciplines as more than 90% of web users rely on search engines to find what they are looking for. Therefore, knowing how to increase brand visibility and convert traffic from within search engines is vital to almost every business operating today.
That's why we have designed a specialist certification that can make a difference in your career. The Professional Diploma in Search Marketing is industry aligned and can help you to stand out from the crowd, and highlight your capabilities. In addition to this, it may enhance your credibility by transforming you into a search specialist.
The Professional Diploma in Search Marketing is equivalent to Level 5 on the European Qualifications Framework (EQF).
This Professional Certification is ideally suited to professionals who are responsible for the planning, implementation and measurement of search marketing campaigns such as search marketing specialists, search advertising and optimization professionals. Similarly, it is recommended to anyone looking to pursue a career or enhance their knowledge in the search marketing discipline.
How may I attend the Professional Diploma in Search Marketing?
The Professional Diploma in Search Marketing is an online digital marketing program, and you may start at the beginning of every month and at your own convenience.
This digital marketing course gives you the privilege to access video lectures, slide presentations, practical exercises and interactive quizzes 24/7, at your own pace. Moreover, a supportive student network enables you to tap into as and when required by the program's online tutor.
What will I accomplish after attending this digital marketing course?
Upon successful completion of a 3 hour Pearson VUE computer-based examination, candidates will be awarded the world's most widely recognized digital marketing certification.
Search Marketing Certified Specialists will acquire the necessary skills and knowledge that will enable them to create and steer a revenue-generating digital marketing strategy for companies of any size. In addition, an internationally recognized Certified Professional badge will also be available for you to display upon on your LinkedIn profile.
We hope that you can share the excitement and seize the opportunity to participate in the most sought for Professional Diploma in Search Marketing worldwide. The program is validated by the Digital Marketing Institute's Global Industry Advisory Champions including Google, Facebook, Twitter, LinkedIn, Coca-Cola, IBM and HubSpot among others.
ImarComms can assist you at any point in the course to ensure your full understanding, easy use of the online platform, and success in your exam and the global certification process.
Take our short DIGITAL DIAGNOSTIC TEST to check how strong your digital skills are!
Scroll down to download our program's brochure.