'I Report 2015' Main Findings
Internet penetration increased by 4.8%
A significant increase of 10% was recorded in the News, Social Media and Sport News categories
1 out of 5 buys Cosmetics Online
1 out of 3 searches for Jobs Online
Increased usage of Social Media from all age groups
Facebook remains on the first place
Google is the predominant Search Engine
Nearly 1 out of 3 uses Tablet
Samsung holds the first place in Smartphones
Apple holds the first place in Tablets
The annual findings of I Report 2015, the first subscription tool for measuring and analyzing the interactive behavior of Cypriots on the Internet, were announced today by Evresis Research and Interactive Marketing Services Company, ImarComms.
The I Report recorded the online penetration in Cyprus increasing by 4.8% from the corresponding period, reaching 66.2% in 2014. Nearly 7 out of 10 users aged 13 and over are visiting the Internet, primarily for general news with 91.2% and an increase of 10.5%, and secondarily for Social Networking with 69.5% and an increase of 8.6%.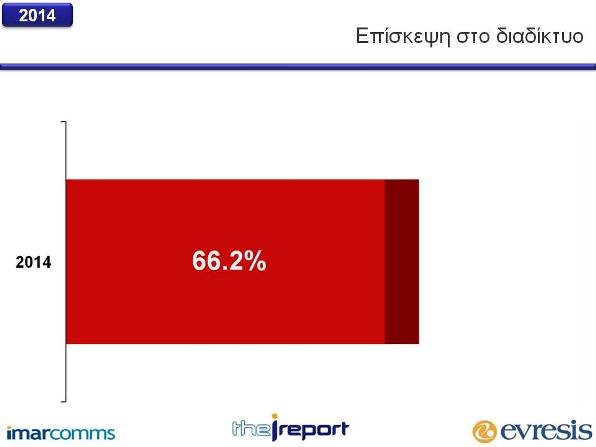 As the third most frequent reason for visiting the Internet, the I Report recorded Sports News, which reached 38.8%, immediately followed by the online purchases with 33.8%. The Category 'Job Search' comprises the fifth reason for visiting the Internet with 32% and an increase of 9.3%.
As the first category of online purchases remains the Category 'Clothing and Footwear' with 49.7% and an increase of 2.5%, and as second the Category 'Travel/Hotels /Tickets' with 37.6% and a rise of 3.2%. As third Category emerged the Category 'Cosmetics' with 20.5%, and an increase of 3.9%.
"The findings of I Report 2015 showed a great rise on Internet usage, especially in matters that concern news, entertainment, and online shopping, driving the digital economy into new levels," said Nicholas Nicholaou, Director of Evresis.
Rise was also recorded in Social Media with 67.2% of the Internet users having their own profile on Social Networks with increasing rates in all age groups. Facebook continues to hold the lion's share reaching 97% of users, while other equally important Networks recorded a rise. An increase was also recorded on the daily usage of all networks throughout the day from different age groups.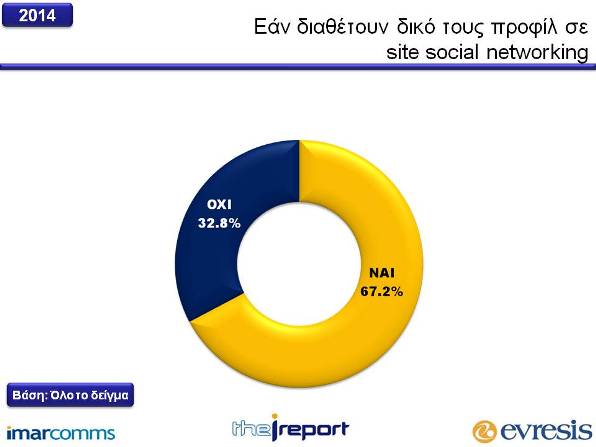 Increase was also recorded in the usage of the internet via mobile phones reaching 43.1%, with Samsung's continued dominance over Apple and other manufacturers, while the conduct of banking transactions via mobile phones keeps rising.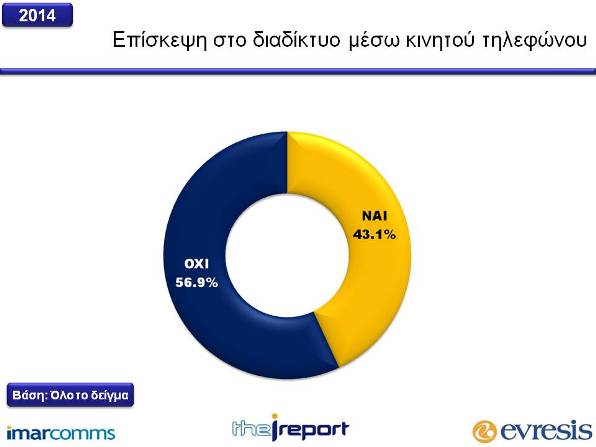 The use of the Internet via Tablet has risen to 30.2% of those visiting the Internet, aged 13 and over, with I Pad remaining in the first place against Samsung. The main Applications that are downloaded are related to online games, Social Networks, and News. Equally important is the usage of Search Engines with Google outweighing Youtube and Yahoo.
"The I Report 2015 reflects the establishment of important sectors of the digital economy, such as News and Social Networking, that are directly influencing the online buying traffic with the largest amount of buyers spending four digit numbers every year" said Pericles Ellinas, CEO of ImarComms.