'I Report 2016' Main Findings
Internet Penetration exceeds 70%
General News, Social Media and Sports News are among the first choices
'Clothing', 'Travel' and 'Cosmetics' are the first online purchase Categories
Increased use of Social Media from the ages 45+
Rise of Twitter
Rise of YouTube
Almost half of the users visit the internet from mobile phones
Samsung is the first selection for smartphones
Apple is the first selection for Tablets
The annual findings of I Report 2016, the first subscription tool for measuring and analyzing the interactive behavior of Cypriots on the Internet, were announced today by Evresis Research and Interactive Marketing Services Company, ImarComms.
The I Report recorded the online penetration in Cyprus increasing by 4.5% from the corresponding period, reaching 70.7% in 2015. More than 7 out of 10 aged 13 and over are internet users, visiting the internet primarily for general news with 92.4% and an increase of 1.2%, and secondarily for Social Networking with 75.9% and a rise of 6.4%.
As the third most frequent reason for visiting the internet, the I Report recorded Sports News which reached 37.8%, followed by the Category 'Job Search' with 37% and an increase of 5%. The online purchases comprise the fifth reason for visiting the internet with 35.5% and a rise of 1.7%.
As the first category of online purchases remains the Category 'Clothing and Footwear' with 50.4% and a rise of 0.7%. As second the Category 'Travel / Hotels / Tickets' with 40.1% and a rise of 2.5%, and as third the Category 'Cosmetics' with 23.5%, and an increase of 3%.
Rise was recorded also in Social Media reaching 72%, with a remarkable participation of the ages 45 years and older. Increase was also recorded in the use of Twitter and Youtube.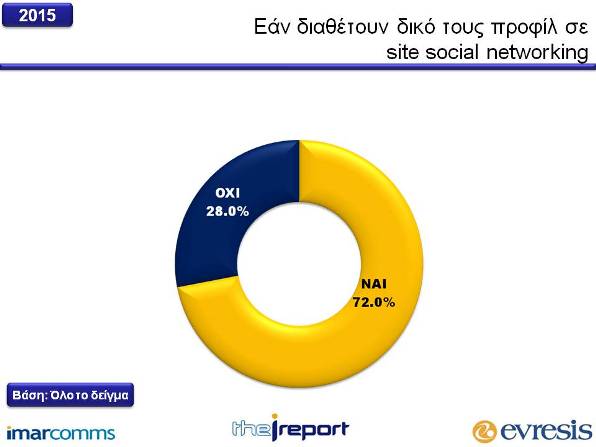 Rise was recorded in the usage of the internet via mobile phones as well, reaching 45.5%, with Android devices being the most preferable, especially Samsung, while the use of mobile phones for banking transactions is still rising.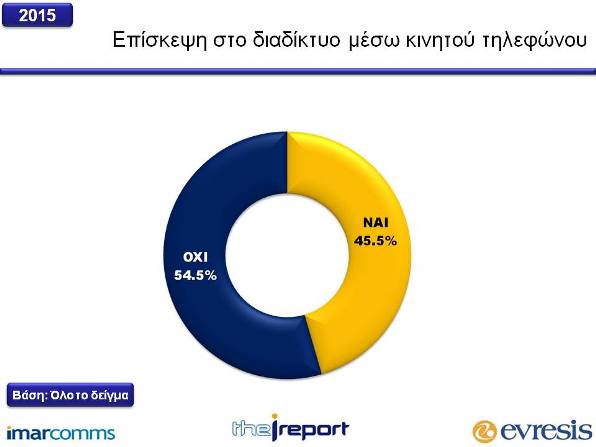 The use of the Internet through Tablet has risen to the 36.6% of those visiting the internet, aged 13 and over, with I Pad remaining in the first place, followed by Samsung in the second place.
"The I Report 2016 recorded a continuous rise of interactivity and penetration of the internet in Cyprus, which also concerns older age groups of users and consumers that comprise an integral part of the digital market", said Pericles Ellinas, CEO of ImarComms.
More information regarding I Report main findings and service can be found on the following sites, www.imarcomms.com and www.evresis.com.cy