I Report Main Findings: 1st Quarter, 2013
March Records the lowest buying traffic of all times
Purchases of Mobile Phone Devices stabilized in second place
Increased Purchases through Mobile Phone and Tablet

Significant Rise for Aegean
The results of the first quarter of 2013 of the subscription tool for measuring and analyzing online shopping in Cyprus - the I Report – were announced today by Evresis Research and Interactive Marketing Services Company, ImarComms.
The I Report tracked the online behavior of the Cypriot consumer for the first quarter of 2013 with March to record the lowest buying traffic of all times with 36.6% compared to the same quarter of 2012 where the same month was the one with the higher purchasing traffic with 53.2%. The I Report recorded February as the second month in online shopping, with 48.6% and January as the first, with 57.1%.
Overall, online purchases recorded the biggest decline in the last two years with the percentage to be reduced to 31.3% from 34.7% from the previous quarter, although January 2013 recorded a particularly upward course that was not enough to stem the big drop after March 15th.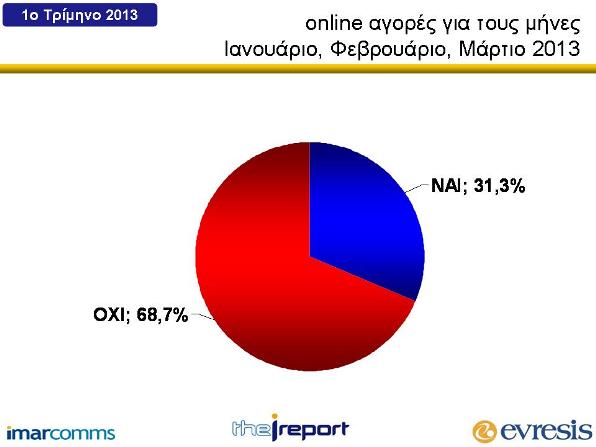 The I Report recorded an ongoing increase in the use of mobile phones for online shopping from 14.7% of the last quarter to 16.2% with women to have the upper hand. Also, increase has recorded to purchases made via Tablet from 6.1% to 6.9%. 91% of online purchases were made from home and 9% from the office.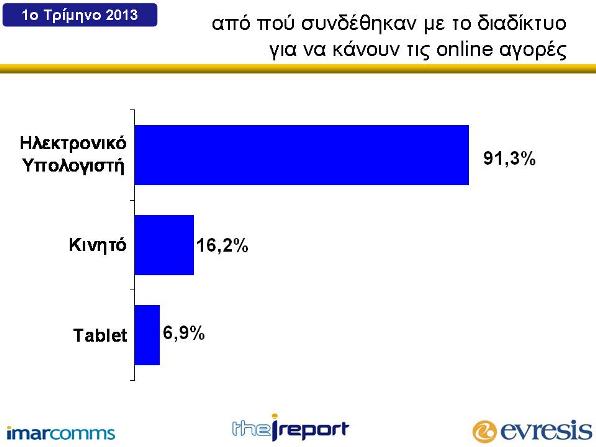 Regarding the categories and types of products purchased online, the I Report recorded:
•As first the "Clothing Category" with 42%, with 3.1% growth, with work clothes to grow at 67.1% and sportswear reduced to 42.9%.
•As second the Category "Mobile Phone Devices" stabilized at 18% despite a sharp decline from the previous quarter by 10.2%.
• As third the Category "Flight Tickets" with 13.5% and an increase of 6.9%.
• Significant increase has recorded at the "Hotels" Category with 4.4%, reaching 8.1%.
Regarding websites and online shops from where the purchases were made, the I Report recorded Ebay remaining as first with 47.1% and a decrease of 0.5%, Amazon as second with 29.4% and 2.7% decrease, and Asos as third with 17.7% and 4.8% decrease. Cyprus Airways follows as the fourth with 7.5% and 2% increase and fifth Aegean, which climbed to 6.0% with an increase of 5.1%. Also from other online shops, the I Report has recorded amongst the Top Ten - play.com 6%, JCC Smart with 4.8%, eshop with 3.9%, and taxidia mprosta with 3.0%.
The I Report recorded as the most important reason for preferring online shopping compared to traditional shopping the cheapest prices by 70%.