Global Strategic Action Plan for Cyprus Halloumi
Halloumi is the number one exporting agricultural product of Cyprus, exported to more than 50 countries worldwide with sales surpassing 240 million Euros annually.  On October 1st, 2021 Halloumi has been registered as a Protected Designation of Origin (PDO) product by the European Commision, safeguarding its unique methods of production, ingredients, and country of Origin as an authentic Cypriot Cheese.
Following this development the Cyprus Ministry of Energy, Commerce and Industry that overlooks the Trade of Halloumi via existing Trademarks around the Globe, had requested the development of an Action Plan that would Strategically position Halloumi as a Global PDO Brand, produced only in the island of Cyprus from local Producers with authentic high quality Ingredients, and Promote it to new potential markets that would expand its awareness, availability and sales volume.
These markets were China, Japan, Australia, Middle East and the USA.
The challenge was that Halloumi had not been produced and marketed as a PDO product at the time, since the capabilities of local producers to do so were limited and challenged due to the need of high quality Goat's and Sheep's milk that was expensive to produce.  In addition, high volumes of Halloumi were produced and marketed illegally in many countries around the world, without complying with the Trade Marks of the Republic of Cyprus, neither to the methods and ingredients of production.  Basically foreign producers were producing white cheese with only cow's milk, and marketing it as Halloumi using the name illegally and exploiting the global consumers who had no clue of what the Cypriot Produced Authentic Halloumi Ingredients were: Fresh Sheep's or Goat's Milk, or a mixture thereof, with or without Cow's milk, Rennet, fresh or dried Mint leaves, and salt.
Many markets were producing and selling 'Halloumi' look alike cheeses in many alternative ways and ingredients such as Halloumi with Chilli, as Halloumi Fries, as White Grilling Cheese, as Halloumi Burgers, using illegally the name Halloumi that had nothing to do with the quality or ingredients of the Authentic Cyprus Halloumi.
Moreover, some of the targeted new countries by the Cyprus Ministry of Energy, Commerce and Industry had very little experience with Cyprus and its agricultural products such as Halloumi, and in order to raise awareness, educate, intrigue and attract them to import and sell Halloumi, a huge investment had to be put into play.  Countries like Japan and China where the Cypriot expatriate population is very small, had very little experience with the Cypriot culture and products, while dairy products do not constitute a substantial part of their daily diet and cultural culinary habits.
In addition, countries belonging to the Middle Eastern region had a lot of experience with Halloumi as they are producing it themselves, but again using different methods and ingredients.  So educating and attracting them to try the REAL Halloumi Cheese was an opportunity, but also a Herculean effort.
Having researched the Global Market through Global research data findings and research results, we confirmed the above challenges and their complexities in every targeted region.  We also verified the lost income for the Cyprus Republic in illegal Halloumi named Cheese sales, while we spotted an increasing trend for the purchase of Halloumi Cheese around the Globe with projected sales closely reaching the 1 billion dollar summit in the next 5 years.
This was a tremendous finding and a huge opportunity to exploit, after of course having developed and established the Cyprus Halloumi as an Authentic, and a PDO product in the eyes and minds of the potential consumers in the Targeted Regions.
Realising the investment needed to raise awareness and educate potential consumers in 5 continents, and the monetary capabilities of the Cyprus Republic, we had to find immediate, smart and efficient communication vehicles to achieve that fast and effectively.  Now we were playing in home ground for us, because as it proved, the digital arena was the most appropriate for this pursuit.
We used a series of online research tools along with our 20 year experience in the communication and digital industry to spot the level of awareness that Halloumi had in the targeted regions, and how much of that awareness was related to the Authentic Halloumi quest, or the mere white cheese substitute that would fail to convey the taste and magic of this amazing local cheese, which has a globally dinstinct and unique characteristic: It can be cooked in four ways! Raw, Grilled, Fried, or Baked.
Having identified the culinary, communication, and sales gaps in each market we developed an international website in the four languages of our potential target group, Arabic, Chinese, Japanese and English, in order to approach these regions in their own language and promote the authenticity of the original Cyprus Halloumi PDO cheese. The one they should look for and identify in their markets.  The website hosted content of the ancient History of Halloumi to prove its ancient origin, tradition, culinary culture and authenticity, as well as the unique four ways of cooking it. 
We also developed tens of recipes to start with, so that they could start cooking the Authentic Cyprus Halloumi with traditional as well as international techniques, showing that it can be cooked in four distinct ways, and only if it's made with original recipe ingredients such as goat's and sheep's milk that does not melt when fried, grilled or baked!
Among others, we developed branded communication for Cyprus Halloumi in 4 languages focusing on the main communication pillars that we identified and developed through our research and creative development: Authenticity, Super Cooking Qualities, Global Outreach and Growth. We prepared among others, communication campaigns for Social Media Awareness and Reach for the targeted regions, while we spotted the Targets' Personas that these campaigns should be marketed to using global digital marketing tools and tactics among many other activities and strategic approaches…
The www.Halloumi.cy website is now live hosting and exposing all authentic and original Cyprus Halloumi content such as its History, Methods of Production, Ingredients and Nutritional Information, Recipes, Trade Marks and PDO information, as well as verified local PDO producers among others.
The Cyprus Ministry of Energy, Commerce and Industry, through our cooperation and development of its Stratigic Action Plan for the Cyprus Halloumi, has now a bird's eye view for the development and globalization of the Cyprus Halloumi Brand.  It has also successfully prepared all related content and material to enable producers and sellers of Halloumi to expand in New Markets and utilize international digital marketing tools and techniques to initiate the necessary awareness for the Authenticity, Multipurpose, and Global Attractiveness of Halloumi around the Globe.  Many Strategic Guidelines and Routes have been paved so that in the next 3 years Cyprus Halloumi conquers the minds and taste buds of global consumers in all widths and breadths of the globe, dominating its Uniqueness, Multipurpose, Authentic Taste, and PDO quality, while sharing the Cyprus culture and culinary treasures, blending tastes and interests, and shifting expectations and norms.
Click below to see featured creatives and international ads for the Cyprus Halloumi, and scroll further to find screenshots of the newly developed Halloumi.cy website: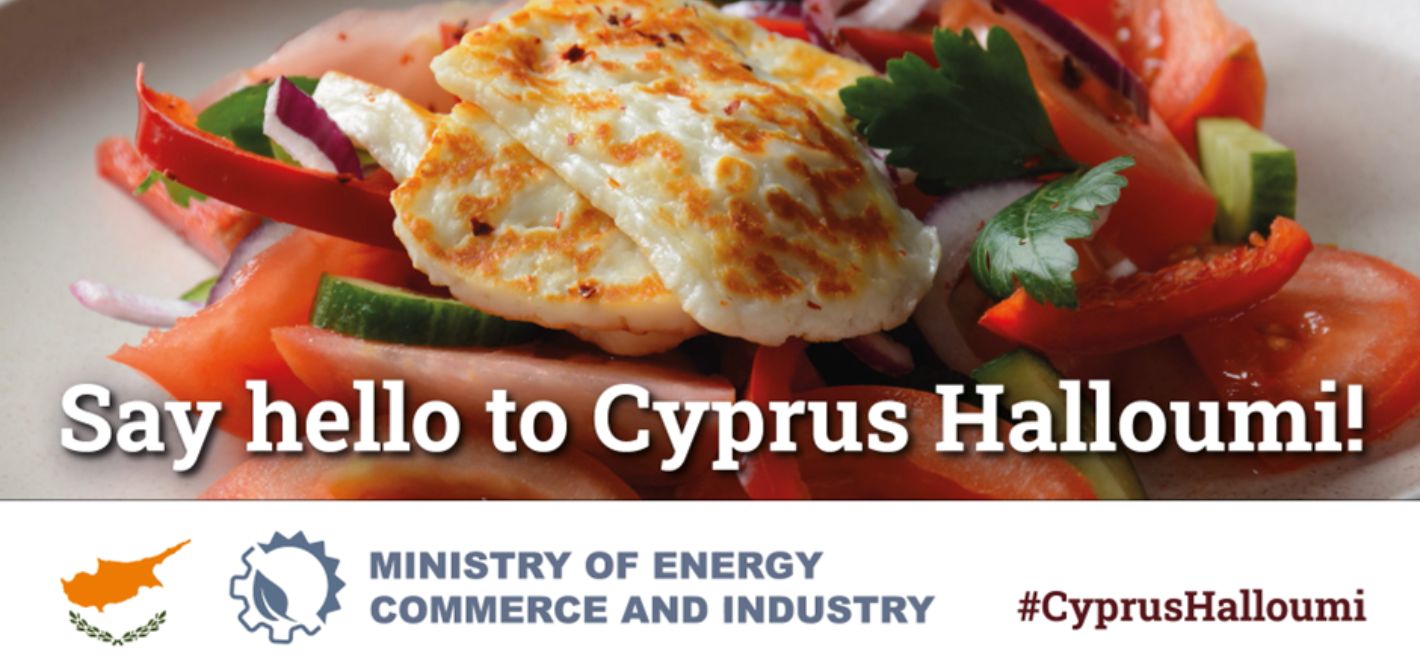 You may also see the newly developed Halloumi.cy website here.