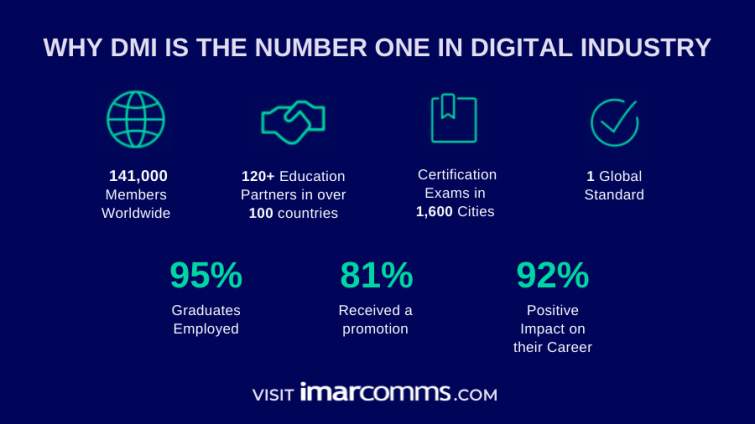 HOW THE GLOBAL KNOW-HOW IN DIGITAL MARKETING CAN ENHANCE YOUR DIGITAL STRATEGY
Living and working during the 'pandemic era' proved to be more challenging than expected.  Digital marketing proved to be the main driver for engagement and sales as everyone jumped on the 'digital wagon' to deliver business strategy and goals.
Still in the 'pandemic era', after a year and a half of experimentation and digital growth, many organizations and professionals are still challenged to have a digital strategy in place.  A strategy that can take account of latest global trends and tools for robust implementation.
That is why seeing things from a global perspective can help the local prospective.
If you seriously want to get in and get on in digital marketing today, and make an impact tomorrow, the Digital Marketing Institute through its global partnership with ImarComms in Cyprus is the modern digital network you need to be part of.

With more graduates than any other certification body, the DMI holds the global authority on digital marketing and selling capabilities. By working with a network of carefully selected Subject Mater Experts globally, the DMI's dedicated product team produces certifications that make a difference, which serve to empower both businesses and professionals with the skills, confidence and industry know-how to stay relevant. 
They ensure that our DMI members are taking away the most up-to-date and relevant competencies needed, as validated by the digital industry and through DMI's Industry Advisory Champions consisted of global Brands such as Google, Facebook, LinkedIn, Twitter and Hubspot.
DMI's Global Certifications and courses are offered by ImarComms in in-class and online modes in Cyprus and cover the following areas:
*The next in-class version of the Professional Diploma in Digital Marketing, offered by ImarComms, will start in Autumn semester 2022.
If you wish to take yourself or your company to the next level with a Global Certification Network in Digital Marketing, you can visit the program's landing page and get a head start!